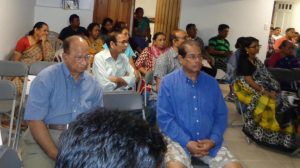 The Bangladesh Christian Association Community Care Unit, LLC's 9th Annual General Meeting was held. Around one hundred people living in Maryland-Virginia and Washington DC attended this meeting. The meeting was held on 29 May in Maryland. The activities of the meeting started after lunch. The unit president Subodh Arthur Rosario inaugurated the meeting with good wishes. He invites everyone to participate in the scheduled discussion by taking a brief review of the past year.
First read the last year's general general meeting session, Unit General Secretary, Property Pierrera. Then this discussion was discussed. Discussed Dennis Albert Rebeiro (Master), Shital Dominic Gomez, Mintu Kasta, Shyamal de Kasta, Hubert Arun Rosario and Joakim Gomez. Subodh Arthur Rosario answers the questions of the members. The report is approved with the consent of everyone.
The manager's report is also discussed in the report. The discussion gives ideas about meetings, how many members, new members and new houses held in the past year.
The unit manager Paul Phil Rogerio presented a part-time report in attendance. He submitted financial statements for the past year. He said, this year we have accurately submitted accounts. The accounts presented are accounted for CPA and their advice has been prepared. In this episode, participants in the discussion included Soft Dominic Gomes, Shyamal de Costa, Mintu Kasta and Hugh Arun Rosario. After discussion, approval of accounts was approved.
Julian Pintu Puri and Rinku Gomes presented the report to the Debt Committee and Supervision Committee. This report is also approved.
After some changes in future plans and rules and regulations, the open discussion phase begins. Albert Dennis Ribeiro, Shital Gomes, Shyamal Kasta, Dolly Rodricks, Subir Kasmir Perera and Mintu Kosta took part in the competition.
At the end of the meeting, the annual general meeting of the unit ended with a closing prayer and lottery episode of Hugh Arun Rosario.