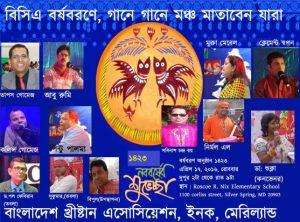 Residents of the United States of Maryland Bangladesh Christian Association Inc. (BCA), one of the leading social and cultural organizations of Bangladeshi Christianity. The initiative of this organization will be celebrated on April 17 in New York on 14th of November. Convention of the ceremony Dr. Patricia Shukla Gomez said, the ceremony will begin at 3 o'clock in the rosquina and Nix Elementary School hall in Silver Spring. It will continue until 9pm. The program will start through the Mars procession. The former two president of the organization will announce the inauguration of the festival by lighting the lamp on the stage.
Then there will be a pleasant cultural program. The ceremony will be held on the occasion of children's dance performances of children. Gloria Artist Rosario will run Baishakhi Dance will serve the artists of the dance industry. Will be managed by Rosemary Mito Gonzalves. There will be Synthia Gomez's party performance. Jairigan of life. Besides, there will be many events including fashion shows and recitations.
Co-founder Joseph Bablu Gomez said, "Some of the musicians of this year will be present on the occasion. Among them, the most significant of them are Tapas Gomez, Abu Rumi, Pintu and Palma, Clement Swapan Gomes, Collins Gomes, Mukta Mabel, Sabinash Chandra Roy and Baul artist Nirmal El Gomes. Apart from this, regular Christian artists of Bangladesh Association will serve party music. Do you agree with the tabla Polo Fabian Gomes, Sukumar Purification and Patrick Gomes
Organized cultural editor Dolly Rodricks said that the native effect will be created throughout the venue. There will be auspicious Baishakh's Alpana, festoon, local cuisine and domestic food. He said that the whole of his own food and self-made food will contain hilsa fish, white rice, pulses, potato, brinjal, curry leaves, chapat bharta, broccoli bharta, paisa, jackfruit beech bhcha. There will be sweet, curd, a variety of cakes. All the food will be open for incoming guests.
It is to be noted that the Bangladesh Christian Association is going to organize the anniversary ceremony in Maryland for the second time.